#Hair Care
Hair transplant aftercare

Hair transplant is usually performed in advanced stages of Androgenetic Alopecia.
#Hair Care
Causes

Progressively increasing Androgenetic Alopecia followed by hair transplant in the affected areas.
#Hair Care
Results of clinical tests

● Moisturizing, scalp calming and growth stimulating

● Strengthening hair cells

● Especially suitable for sensitive scalp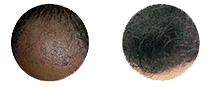 How it works
The biomimetic activity of patented active ingredient GKL-02 consists of animal-free thymus peptides and is the key behind
Thymuskin's success against hair loss for both women and men.

The biological activity of Thymuskin is particularly evident in the activation of the hair cells (keratinocytes),
which have a decisive influence on the growth of hair. Hair formation is stimulated.
There are now numerous independent studies and observation studies on the effect of thymus peptides in cases of hair loss. Thanks to the large number of sound studies on this topic more and more doctors are also recommending preparations with thymus peptides.
This research has shown that thymus peptides have a regenerating and strengthening effect on hair follicles and thus specifically on the structures in the scalp that surround the hair roots and anchor the hair in the skin. Thymus peptides improve cell nourishment to the hair follicle, which supports the formation of new hair cells and thus substantially extends the growth phase of the hair. This functional principle is responsible for the very good results, which can be achieved predominantly with an innovative thymus peptide ingredient.

Thymus peptides are organic compounds that are also produced by the body itself. They are absorbed by the hair follicles, thus strengthening them. This is a natural, biological process that happens automatically in most people while they are young. It is only when the hormonal equilibrium is disturbed, because of age or external influences such as stress, that the body can no longer supply the hair follicles sufficiently. It is then possible to use thymus peptide preparations to help with all types of hair loss. Thymus peptides thus represent an effective alternative to chemical treatments without side effects.